Testing & Quality Leadership Summit
Testing & Quality Leadership Summit

"Building Your Personal Leadership Skills"
Thursday, May 11 (evening) and Friday, May 12 (all day)
Too often employees feel that leadership should come from above. However, recent trends in leadership suggest that successful organizations are ones in which everybody is empowered to lead, and individuals are encouraged to take personal responsibility for their growth and advancement. Join in the conversation with your peers as experienced technology leaders share ways to empower both you and your staff to greater heights. Discover how seasoned leaders drive change and motivate staff—while accelerating their own careers.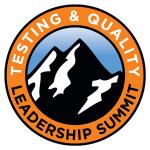 At the 2017 Testing & Quality Leadership Summit, program chair Jeffery Payne brings together senior industry leaders—Rod Jardine and Glen Hellman—for an interactive exchange of ideas and experiences. Each of these leaders brings a unique perspective to the table and will provide Summit participants with lessons learned and practical techniques for leading teams, addressing management challenges, and gaining senior management buy-in.
Bring your biggest issues and challenges to the Testing & Quality Leadership Summit, where you can draw on the knowledge and experiences of these leaders and your fellow leaders who may have already faced and solved some of your issues. Hear what is working—and not working—and have the opportunity to share your experiences and successes. The Testing & Quality Leadership Summit is a perfect opportunity for you to:
Participate in insightful and informative sessions focusing on leadership issues
Meet and network with your peers in the industry
Join in the "think tank" discussion with industry veterans
Develop new ideas and action plans for innovation within your organization
©2011-2017 TechWell Corp.
350 Corporate Way | Suite 400 | Orange Park, FL | 32073