A Practical Approach to QA Transformation in a Global Enterprise – Challenges, Learnings, & Best Practices
Wednesday, May 10, 2017 -

11:30am

to

12:30pm
A Practical Approach to QA Transformation in a Global Enterprise – Challenges, Learnings, & Best Practices
Presented by:

How many times have you tried transforming Testing organization? Have you tried to implement a change in your organization to improve the quality of application deployments which is important for offering compelling user experiences to your clients? Sandra Gaston, Sr. QA Manager at American Tire Distributors shares the list of ideas, implementation details, issues that were encountered, benefits that were achieved in her talk in doing exactly the same. This session covers areas different areas namely test automation for 3rd party products and in-house built apps, Performance testing, SOA testing, QMO Implementation, Global test delivery team and sophisticated Metrics dashboard. Purpose of this session is to help you provide ideas that you can try in your respective organizations to transform testing to the next level.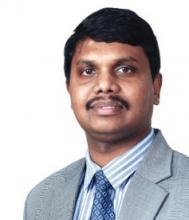 Kalyan Rao Konda
Cigniti Technologies
Kalyan Rao Konda is the President of Cigniti Technologies, North America's largest Independent Testing Services company, based in Philadelphia, which helps businesses maximize returns on investments in their software quality initiatives. With 17+ years of experience in IT Services, particularly testing, Kalyan led large QA teams of 2000+ people at AppLabs as VP-Delivery and had been in QA leadership roles with Virtusa & BaaN earlier. He has a rare mix of high technical understanding with a pragmatic approach to testing services delivery. A strong proponent of Testing-as-a-Service (TaaS) delivery model, Kalyan is a thought leader with hands on expertise in building large scale test automation suites, executing and maintaining them. He has a patent pending with USPTO for 'iGenerate test Scenario' and 'Web Services Validator' filed last year. Connect with Kalyan @kalyanrkonda.